NEWS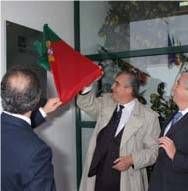 UNIPASTA inaugurated a new production unit
The internationalisation, the doubling of the productive process and the development of new products, namely, ecopastes, were responsible for the inauguration of the new productive unit of Unipasta, in March this year and which represented an investment of 10 million Euros.

"Making the company more competitive and innovative; giving it the right conditions to increase its market share in Portugal and internationalizing its activity to North Africa". Carlos Alberto Lagoa, CEO of the Lagoa Group defines this way the aims that led to the creation of this new unit, in times when the company's strategy has been supported by constant investments in innovation and environment.

Situated in Parque Industrial Manuel da Mota, Unipasta started producing in March 2002, when the 'perception of a high market potential developed' and impulsed by the "new tendencies what concerns processing of ceramic materials".

It is unique not only due to its characteristics but also due to the new line of products that it develops the ecopastes. To produce these environmentally friendly pastes, residues which are generated there, are partially used resulting in a bigger self sufficiency in what concerns raw materials. With this investment the company is counting on doubling the production to reach 150 tons in 2010.

The Lagoa Group being the main share holder through the company José Aldeia Lagoa & Filhos S.A, InovCapital, a company of capital of risk with reference of the Ministry of Economy, also participates in the capital of the company, and invested 1.6 million euros with seed capital funds generated by itself.

This investment has allowed doubling the capacity of production of the company and also the diversification of products and the instalment of a second turbine to produce energy, becoming the Centre of Cogeneration of Unipasta installed in 2004.

It was due to using this innovative process of cogeneration, using the hot gases in the process of production that determined Unipasta's competitivity in the market, allowing it to "supply good quality raw materials at highly competitive prices". It also allows it to sell "electricity which is injected in the public supply network".

The president of IAPMEI, Luís Filipe Costa, present at the inauguration, enhanced the innovative character of Unipasta, considering that the company still "possesses generating capacity and is capable of attracting public and private investments, also announced that 2,3 million Euros will be injected in the factory to finance a new unit of production, resulting from an application to QREN. A number which is added to around 1.6 million Euros which has already been invested by Inovcapital.

Luís Filipe Costa also enhanced that even though Unipasta "is not directly an exporting company, it supplies raw materials to companies which later place the final product in external markets".
+